ZAAZ 15K Vibration Exercise Machine Review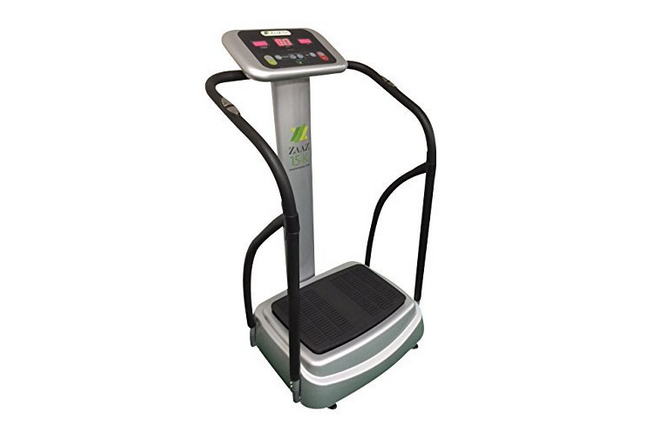 First thing first: if you choose to either buy the Tzone VT15 or the ZAAZ 15K, you will essentially be buying the same vibration exercise machine which is differently branded.
Just like the Tzone VT20, ZAAZ 15K comes with a variety of features which makes the machine one of the best vibration platform machines of this model. It is efficient, powerful and highly reliable.
The ergonomic design strikes you first time you handle the machine. The arms are made from rubber for gripping when selecting the various programs in it. You will revel in its sophisticated construction which is stylish. With this kind of exercise machine that vibrates, be sure to experience whole body vibrations as nearly 100% of your muscles get worked out to a frenzy.
The oscillating technology, low-impact movements and the therapeutic benefits are just but a scratch on the surface of what this simple but powerful vibrating exercise machine is capable of doing.
ZAAZ 15K-optimized rounded square control panel
The base of this machine has 4 corners which are well optimized by the handle bars which are tapered on the edges. If space is your concern at home, you will relax on the knowledge that the machine makes good use of its own space.
ZAAZ 15K-LED display
The control panel has a lot of important information which is well displayed on the screen. This includes the time, speed and the BMI. There are 3 such small LED displays compared with just one display window available in the other model, i, e Tzone VT 20.
ZAAZ 15K-pre-programmed
There is never one dull moment when exercising with this machine because there are up to 8 exercises for you to exercise on with every routine. These programs are pre-installed which means you just starting using them straight away when you buy and install the machine. It is also important to note that these programs have speed settings which reduce as one approach the 10 minute workout interval.
Speed settings
As noted on the pre-programmed settings, there is a speed setting for the programs. You will be able to use 99 speed settings. This gives you a variety of options in regard to the kind of speed you are comfortable with. Depending on your fitness level, you will be able to use the wide array of frequencies for each of the speed settings. This way, you will optimize your works comfortably within the time limit of 10 minutes allocated per day.
The fat monitor
This is an advanced model of the VT20 which now uses a fat monitor instead of the pulse monitor.
Features of the ZAAZ 15K
8 pre-programmed exercises
99 speed settings
Fat scanner installed
Ergonomically structured handlebars and control panel
3 small LED window displays
Short time for work out session
Uses oscillation vibrations
High power output of 500W
Strong, durable steel construction
1 year warranty
Large platform size
Has wheels for movement
User weight support of 330ibs
User training DVD
BMI sensor
Amplitude of 10 mm
Pros of ZAAZ 15K
This vibrating exercise machine has a number of advantages such as:
Has a high power output for this model type
Offers variety of speed settings and pre-installed programs
Beneficial to the body and especially in regard to the circulation,lymphatic,bones and muscles
Makes god use of space thanks to ergonomic design
Offers more display information due to several LED screens
Cons of ZAAZ 15K
However, just like any other machine, this one has a few limitations. You will be restricted on some exercises which you would want to perform with hands like plank. The handlebars have rails which inhibits such moves.
The issue of cost is also a source of concern as it is much more expensive than even Tzone VT20.
The issue of cost should not arise if you are looking for quality though.
 At the time of writing this review, there are good points posted by other users of the machine with 5 star rating on overall.
Conclusion
The ZAAZ 15K is a valuable machine that will help you optimize your workout and at the same time improve your health.  In spite of the high price tag,i highly recommend it.